The past couple of months, a lot has changed for me. I officially moved to California, started my last semester of engineering at San Francisco State, accepted a job offer, and began training for a 5k. However, my love for the arts has not changed. I have been diving deeper into photography and realized just how plain the walls of my apartment are. As I'm writing this, I am staring at a blank wall above the dining room table.
Since I am taking pictures and getting a better eye and better at editing, Alex and I have decided to use my photographs to decorate around the apartment.
We decided on a theme for each room. The bedroom will have a photograph of the Grand Canyon (whenever we get there), the dining room a series of Napa Valley pictures, and the living room a large print of the Golden Gate Bridge (assuming I ever get a picture of it without Carl the Fog)
With a goal in mind, we decided we needed to find a photo lab. There are plenty of blogs with plenty of opinions on who's the best to use, but we found Bay Photo Lab through local photographers at the Mountain View Art and Wine Festival. Each time we saw a photography booth, we stopped in, admired the work, and talked to the photographer. Almost all of them told me they went through Bay Photo, a local photo lab which has a great web interface. By going to these booths, we also decided we loved the metal print style, and needed to do that for our prints too.
Armed with some new knowledge (and plenty of encouragement from some of the photographers), I logged onto Bay Photo and began exploring how to get my metal prints. They have a great deal where you get 5 different styles of metal prints for a fixed price. Alex and I decided to test out the service by ordering that package and these are the results:
From left to right: sheer glossy, mid gloss, high gloss, satin, and sheer matte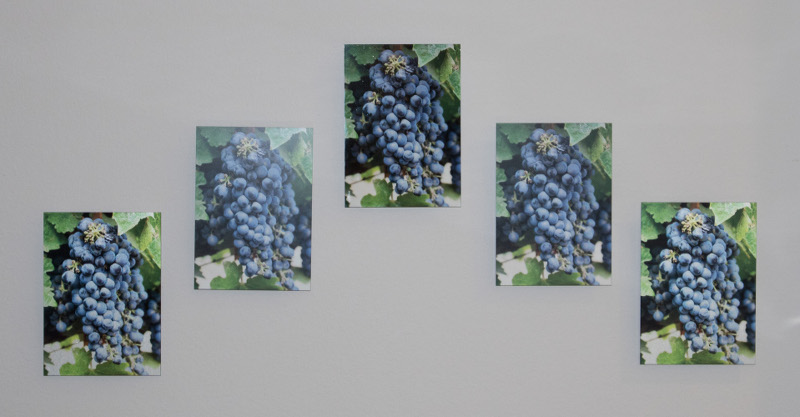 Personally, my two favorites are high gloss and mid gloss. With this grape picture, the sheer glossy came out darker than I would have liked, but in the future I will know to bring up whites and exposure if I want to do a sheer glossy print. I love how all the prints came out and can't wait to do my next set of Napa metal prints on my birthday.